It is a truth universally acknowledged that you can never have too many cookbooks, but finding the right cookbook to add to a collection is a delicate process, not unlike choosing a paint colour, or a spouse.
Luckily we've taken the leg work out of the selection process and broken it down so that you can get it right and earn the love and approval that you so sorely deserve. Because that's what christmas is all about.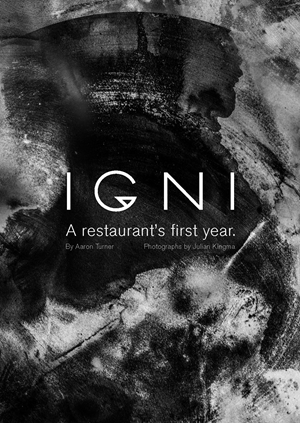 For the serious chef: Salt, Fat, Acid, Heat: Mastering the Elements of Good Cooking by Samin Nosrat ($50)
This one is not for the flippant shake-and-bake crowd - it's a fascinating read on the chemistry behind how we prepare food and ideal for curious, intelligent cooks who love what they do.
For the aspiring restaurateur: Igni: a Restaurant's First Year by Aaron Turner ($60)
Part cook book, part diary, Igni is a glimpse into the magic, mayhem and mastery behind the first year of a new restaurant. Great for industry types and anyone who gets a couple of glasses of wine in them and starts talking about opening a restaurant 'one day'.
For the literary cook: The Little Library Cookbook: 100 Recipes from your Favourite Stories by Kate Young ($40)
If you know someone who likes cooking and reading, it wouldn't be an overstatement to say that Kate Young's book is a genius present guaranteed to melt the heart of its recipient. Filled with dishes of literary origin, it's a whimsical journey through food and fiction.
For the baker: The Tivoli Road Baker by Michael James with Pippa James ($60)
Gird your salivary glands, this baking book is an inventory of deliciousness covering everything from croissants to chicken curry pie. For a baker or a bakee (someone who eats baked goods professionally), this is one of our favourites for christmas.
For the kitchen adventurer: Hummus and Co. by Michael Rantissi and Kristy Frawley ($50)
Ready, set, hummus! From the culinary creatives behind Kepos St Kitchen comes a new cook book with signature middle eastern flavours. A clever gift idea for food-lovers and anyone for whom felafel is more of a religion than a snack.
For the veggie lover: Vegetable: Recipes that Celebrate Nature by Caroline Griffiths and Vicki Valsamis ($50)
It's not true that you don't make friends with salad. Surveys have shown that vegetable lovers are more popular and delightful than people who hate vegetables. And this stunning cook book is an appropriately reverent ode to our earthy friends.